Posted on
By Texas Bee Supply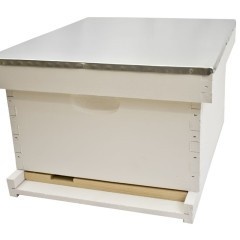 2020 Bee Sales - Here is what you get!
Texas Bee Supply Summer Bees
Description: This 10 frame hive box will come with 9  frames installed. It includes a 2020 Texas 5000™ laying Italian/Carniolan queen, with at least 3 frames of brood and 8 frames covered in bees, which have been recently checked for mites.

Woodenware: The new woodenware will be painted white and includes a new box, telescoping cover, inner cover and Varroa screened bottom board!  Please note: all 9  frames in your box will not be new. We raise some brood on used frames in order to get your bees developed quickly. The frames may be a mix of wooden and plastic frames. Some frames may be all plastic or have wire with beeswax foundation. As this is the brood box and extracting honey from this box will not be occurring, any of these types of frames should be fine. 

Queen: These queens will only be marked if you add a mark to your queen as a separate item to purchase.  You can click here to add a mark.  We do not clip wings.  .

Delivery Night Choices: As each delivery days/times/locations fill up, it will be removed from the list of options or you will see a message that says "out of stock". With our new 7 day money back or exchange guarantee we no longer encourage inspection of bees on pick up evenings.  If you have any concern about your purchase simply call Texas Bee Supply and talk with one of our associates or email [email protected]  If we are unable to resolve your issue to your satisfaction then simply schedule a day to return your bees in the container you received them and we will refund your money or replace your bees...your choice!  We want you to be fully satisfied with your purchase. Also, we will make every effort to make your pickup up efficient however due to weather and customer arrival times there could be a wait. Please be prepared for this likely scenario.
Dates: We anticipate these hives to be ready by the mid April through the first week of June. If we discover that we cannot accommodate your chosen pick up night, we will contact you as soon as possible and let you know of other options.
Email Address: Please include a valid email address as we must send you pick up instructions the week you get your bees. You will receive a receipt in your inbox once you order your bees, so please watch for it. If you do not receive a receipt, we did not receive your order.
Shipping/Pick-up: We do not ship or deliver these hives. All orders for hives must be picked-up at one of our two Texas Bee Supply locations:
14665 County Road 633, Blue Ridge TX 75424 (DFW Area)
OR
351 County Road 6243, Dayton TX  77535 opening spring 2020! (Houston Area)
Please note that there are two Blue Ridge cities in Texas.  We are located north of the DFW area and our zip code is 75424.
Care of the Hive: Once you take your bees home, please be prepared to feed them constantly for a minimum of two weeks. They will need this syrup to eat while they are locating nectar in their new location. Once you have a feeder in place, please allow the bees to rest for a few days before examining the hive. They have had a traumatic move and they need some adjustment time before you open up the top and go through the frames. The queen may stop laying for a while as she adjusts to the new location so don't panic if you think she isn't laying immediately. Give her a few days or so and then recheck the hive for eggs.
What's Included?
New white painted screened bottom board
New white painted deep hive body
At least 8 frames of bees
2020 Texas 5000™ laying queen
New white painted telescoping top cover